An awards dinner following the competition is recommended, but is not mandatory. If it is not possible to hold a separate awards dinner, the Jeunes Chefs awards must be presented in an appropriately elegant fashion, immediately following the induction ceremony. The President of the Competition officiates at the awards ceremony.
All trophies and awards are provided by la Chaîne des Rôtisseurs Siège Mondial, through the Jeunes Chefs Rôtisseurs Committee. All competitors will receive the following awards, regardless of standing:
Competition Diploma of la Chaîne des Rôtisseurs
Five-year Rôtisseur membership in la Chaîne des Rôtisseurs and l'Ordre Mondial des Gourmets Degustateurs
Wüsthof kitchen knife
Chefs-Hat Inc. Chef Working Jacket
Medal winners will also receive the following prizes:
Arthur Bolli Memorial Trophy
Gold Medal of la Chaîne des Rôtisseurs
2500 Euro cash award
Le Cordon Bleu Paris five week Intermediate Cuisine or Pastry training
Wüsthof knife set
five year membership in la Chaine des Rotisseurs and OMGD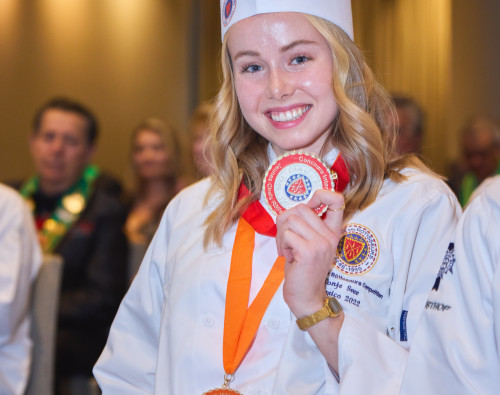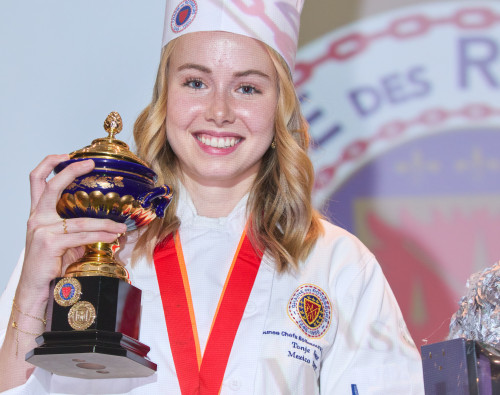 Arthur Bolli (1906–1983), was a Swiss Chef. He held the position of Chairman of the Committee of Professional Members, and was often a member of the Jury during international competitions. Chef Bolli created the "Black box" for the culinary competitions. Chef Bolli was elected to the Conseil Magistral in 1962. In 1974, he was promoted to Chargé de Missions of the Bailliage of Switzerland, then to Conseiller Culinaire in 1975.

To maintain the tradition of Arthur Bolli, the Bailliage of Switzerland created a trophy, which remains in the office of the Chaîne des Rôtisseurs in Paris, where it is engraved with the name of the winner of the Concours International des Jeunes Chefs Rôtisseurs. A miniature trophy is awarded to the competitor.
Eugénie Brazier Award
Silver Medal of la Chaîne des Rôtisseurs
1500 Euro cash award
Wüsthof 3-piece knife set
five year membership in la Chaine des Rotisseurs and OMGD
Eugénie Brazier (12 June 1895 – 2 March 1977), known as "la Mère Brazier", was a French chef who, in 1933, became the first person awarded six Michelin stars, three each at two restaurants: La Mère Brazier in the rue Royale, one of the main streets of Lyon, and a second, also called La Mère Brazier, outside the city. This achievement was unmatched until Alain Ducasse was awarded six stars with the publication of the 1998 Michelin Guide.
In 2007, thirty years after Brazier's death, her granddaughter founded l'association des Amis d'Eugénie Brazier. Its aim is to promote the careers of young women apprentices, guide and support them in the world of cooking and pass on to them Brazier's professional values.
Jean Valby Trophy
Bronze Medal of la Chaîne des Rôtisseurs
500 Euro cash award
Wüsthof 2-piece knife set
five year membership in la Chaine des Rotisseurs and OMGD
In 1950, three gastronomes, Curnonsky, Elected Prince of Gastronomes, Dr. Auguste Becart, and Jean Valby, and two professionals, Louis Giraudon and Marcel Dorin, met in Paris and decided to revive the form and tradition of the Chaîne by restoring the pride of culinary excellence lost during a period of wartime starvation. The Chaîne des Rôtisseurs was re-incorporated and the coat of arms of the ancient Guild was restored to the Fraternity.
This award is presented to the competitor who has the highest score in the kitchen for the competition. The award is a special set of Wusthof knives, sponsored by Harald Wusthof, Managing Director of Wusthof Manufacturing.